The hydraulic pool lifts are a great step towards more sustainable facilities, bringing bathing and all its benefits closer to everyone, thus offering the same opportunities and facilities to everyone.
At ACCESS we believe in the importance of breaking down architectural barriers so that, in the future, facilities can guarantee that, in addition to bathing, swimming and its advantages, inclusion and the same opportunities for everyone will be offered, both in public and private pools.
All those who have difficulty accessing the water by means of conventional access such as stairs or ramps, can do so by means of pool lifts and thus continue to enjoy bathing.
There are many types of pools, with different shapes, accesses, profiles, overflow types, etc. Precisely because of the wide range of possible scenarios, hydraulic lifts are designed to adapt to all of them.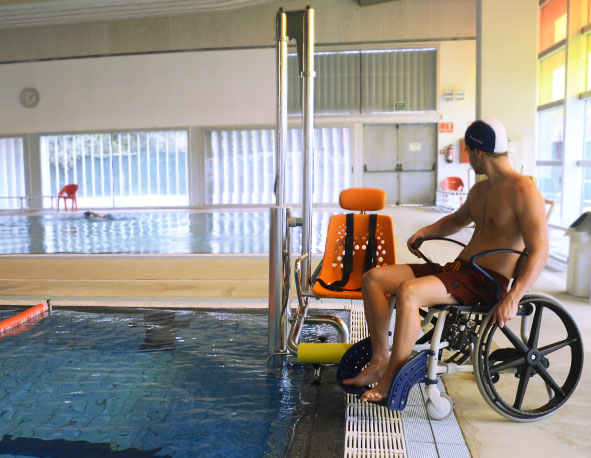 Which model of hydraulic lift is best for my pool?
There are several types of pool lifts designed to facilitate access to the water for people with motor disabilities. The four models of ACCESS hydraulic pool lifts are suitable for any type of pool and depending on the needs of each customer, one solution or another is offered.
The ACCESS B1 model is the only portable hydraulic lift which, by simply anchoring it to the base of different pools, allows the lift to be moved and installed so that it can be shared in different pools in the same installation, such as in a sports centre, in hotel or camping pools, a spa, or others.
This same lift is also available in a static version: the ACCESS B2 model, which, like its brother B1, has an extendable arm to adapt to different pools and types of overflows. A robust, resistant and safe equipment, which also includes a footrest for greater user comfort.
On the other hand, we have the ACCESS B4 and B4 XL models, the fixed hydraulic lifts, which are very easy to install by means of a simple three-bolt anchoring system to the floor. Our technical team recommends them for seasonal pools, and underlines their adaptability to any type of pool, even shallow ones.

What is the price of a hydraulic lift?
The prices of hydraulic lifts vary according to their characteristics and features, and also depend on the materials they are made of and the guarantees of operation and durability they can offer.
The ACCESS pool lifts are manufactured with the best materials, resistant and that guarantees a long life of the product, its structure and cylinder are made of stainless steel AISI 316 L and the chair is made of polypropylene, suitable for outdoors.
They also have accessories suitable for the different models to improve the user's experience and comfort, such as the harness and headrest set and the folding footrest for ACCESS B1 and B2.
I need an accessible pool