Pool lifts are the key solution to improve the accessibility of swimming pools for disabled people, people with reduced mobility, elderly people, in wheelchairs and facilitate their access to the interior of the swimming pool or spa. 
In Blautec we offer you a wide range of models of pool lifts, both hydraulic and electric.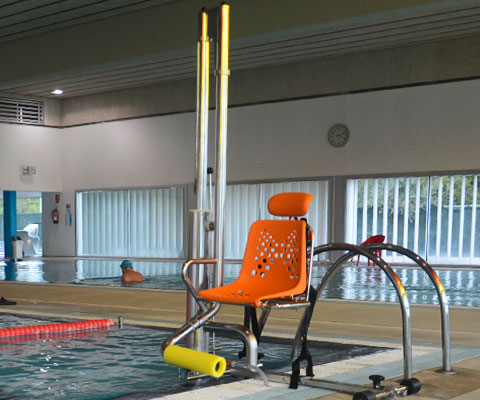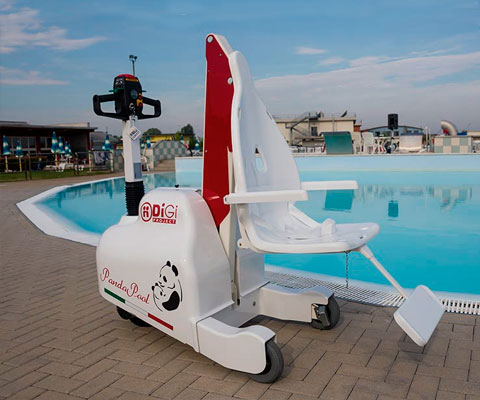 electric or battery pool lifts
Broadly speaking, there are two types of pool lifts: hydraulic lifts and electric lifts. We will now look at their main characteristics and the differences that characterise each of them, as well as their most important advantages and disadvantages. 
Firstly, there are the hydraulic lifts, which work with mains water pressure and have a maximum lifting capacity of between 120-140 kg, which may vary depending on the model of lift and the pressure to which they are connected. There are several models of this type of lifts, some of them fixed or portable for easy transport. 
On the other hand, we have the electric or battery-charged lifts, whose operation depends on external batteries (which are charged separately with the appropriate charger and by means of a cable connection). In this way, and for safety reasons, there is never a direct connection between the pool and the mains.  
In other words, nowadays, we can find different types of pool lifts, which can have two different types of anchorages (fixed or mobile); with operation by means of hydraulic or electric mechanisms. 
What are hydraulic lifts? 
In Blautec we manufacture a complete series of hydraulic lifts for swimming pools: the ACCESS range, which have been conceived and designed to facilitate access to the pool for people with reduced mobility. 
The ACCESS lifts work by means of mains water pressure. They are composed of a main mast, a chair and a hydraulic piston that allows them to move vertically (and in rotation) following a rail system. 
To operate, the lift only requires a water pressure of between 3.5 and 5 bar. It does not consume any water as it is returned to the pool when the lift is activated. 
There are fixed and portable models (Access B1) that can be shared between several pools (these require the installation of a fixed anchor in each pool). 
They stand out for their robustness, safety and comfort, the 150-160º turning angle and their double drive to allow maximum autonomy for the user. 
What are electric or battery lifts? 
These portable lifts facilitate access to swimming pools for people with reduced mobility in a safe and comfortable way by means of the transfer of their chairlift using electricity stored in batteries. There are also options for fixed installation lifts. 
Portable lifts allow easy handling and transfer from any part of the installation. 
It is important to know that, with a single portable battery lift, all pools in the same facility can be serviced. In addition, they do not require a large previous installation and most of them have a contact key and an emergency set for maximum safety. 
Blautec offers you a wide range of electric lifts from the most important companies in the sector. 
Advantages and disadvantages of the types of lifts for swimming pools 
In Blautec we are aware that the choice of a lift for your pool may seem a somewhat complicated task. For this reason, we will now explain the advantages and disadvantages of one type of pool lift or another. We want to help you choose according to your needs: 
ÉLÉVATEUR HYDRAULIQUE
ÉLÉVATEUR ELÉCTRIQUE
INSTALLATION 
Portable or fixed
Portable or fixed
OPERATION 
By means of mains water pressure
With electric batteries
MAINTENANCE 
Minimal. Internal seals for long use
Batteries may require maintenance or replacement
with use
STORAGE 
Can be left permanently installed or stored
out of season
 It is advisable to store portable lifts after each use
CAPACITY 
Maximum lift is up to 120/140 kg
Maximum lift is up to 150 kg
OPERATIONS
Simple and autonomous for the user
Requires a second person to move and operate it
USES 
Unlimited use
Depends on battery capacity
CONSUMPTION 
Null. Water returns to the tank after operation 
Electricity
OPTIONAL
ACCESSORIES
Safety harness, headrest and footrest
Charger, restraint belt, headrest, legrest, remote control...
Find out more details about our hydraulic lifts: