Solve the accessibility needsfor all types of swimming pools with an
lifting capacity of up to 160 kg.
I need an accessible pool
What is a Hydraulic Pool Lift?
Blautec ACCESS hydraulic lifts for swimming pools are manufactured in Europe (Barcelona) and make therapeutic and recreational swimming possible, by providing users with limited mobility the ability to get safely into and out of the pool, thanks to its rotation vertical movement 150º / 160º and are also designed to provide maximum autonomy to the user.
ACCESS pool lifts are resistant, safe, easy to install and meet all functional and aesthetic requirements. We have a wide range suitable to cover all customer needs.
Pool lifts ensure access to water, a factor that is highly beneficial and improves the quality of life for many people.
Advantages of Access Pool Lifts:

NEWS: With the highest lifting capacity on the market
Tested and approved to support up to 160 kg lifting weight.

Smooth, comfortable and safe
The movement is smooth, safe an accomodate up to 140 kg. The turning angle of 150º / 160º guarantees a movement facing the water, a fact that provides greater comfort and safety to the user.

Maximum autonomy, double operation
All ACCESS pool lifts have a double drive to facilitate autonomy for the user both to enter and exit the water.

Our models can be adapted to pools of various dimensions, shapes, depths and types of overflow.

Easy to install and to assemble
Its installation only requires a water connection and a minimum surface fixation. There are fixed models with a simple anchor and portable ones.

ACCESS risers can withstand many years with only the need to review and renew their joints.

Own manufacture in Europe (Barcelona)
Our ACCESS Pool lifts are manufactured entirely in our workshop in Barcelona, ​​where our quality control always supervises their optimal operation.

High quality and certified resistance
The ACCESS Pool lifts, are made with quality materials; are highly resistant on the outside and inside and have a CE certificate.
Allow accessories to enhance safety
Some lifts include footrests, and all offer the possibility of incorporating harnesses or headrests to improve comfort for customers who require it.

Technical assistance and permanent permanent stock of spare parts
Our manufacturing and maintenance team offers technical support and a permanent stock of spare parts.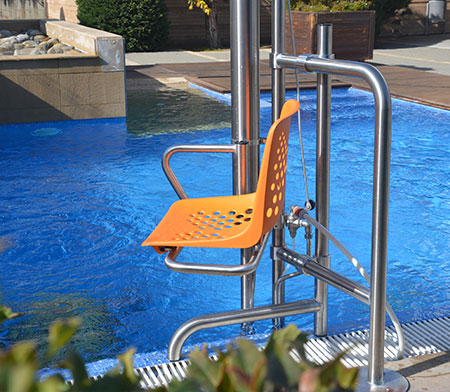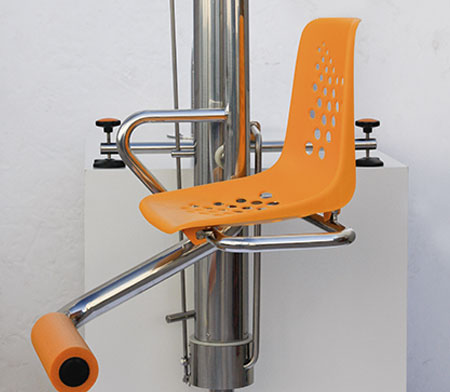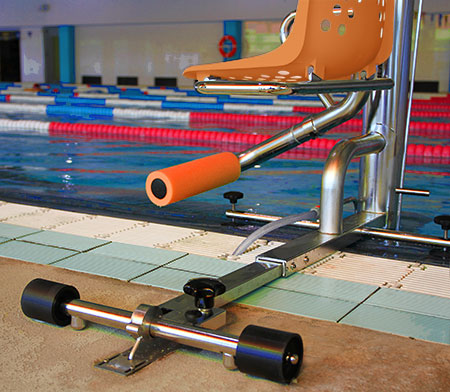 Technical characteristics of hydraulic pool lifts
Models
ACCESS B1
ACCESS B2
ACCESS B4
ACCESS B4 XL
tr>
Weight capacity
160 Kg
160 Kg
150 Kg
150 Kg
Rotation angle
150º
150º
160º
160º
Anchor arm
Telescopic
620 to 960 mm
Telescopic
620 to 960 mm
355 mm
655 mm
Minimum depth
1100 mm
1100 mm
800 mm
800 mm
tr>
Dimensions
3110x1300 mm
3110x1300 mm
2425x700 mm
2425x700 mm
tr >
Weight (approx.)
54 Kg
54 Kg
43 Kg
44.5 Kg < / td>
Water pressure
3.5 to 5 bar
Manufacturing materials
Structure in stainless steel AISI 316L and ergonomic chair in polypropylene. Suitable for outdoors
Manufacturing conditions
CE approved products.
ISO 9001: 2015 Certificate