At Blautec we provide a wide range of solutions to enable comfortable access to all type of swimming pools for people with reduced mobility, so they can enjoy the best bathing experience. Among other products, we put at your disposal the range of ACCESS hydraulic lifts (conceived and designed to facilitate access to the pool for people with reduced mobility). 
At Blautec we are very aware of the sensitivity with which we must treat this type of machinery and the uses it will be put to once installed. That is why our lifts comply with a series of certificates that we would like to explain below. 
All of them are CE compliant and are of different types: depending on what you need to apply, consult and/or inform your users.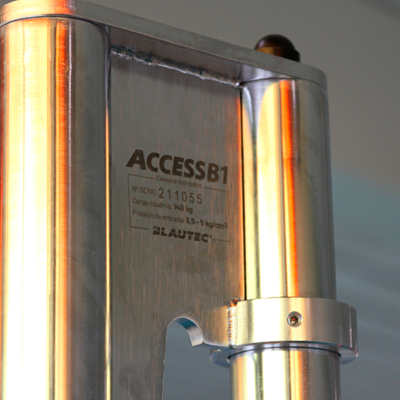 EC declaration of conformity of our handicap pool lifts
Blautec declares, under our responsibility, that the ACCESS range of hydraulic lifts for persons with reduced mobility is in conformity with the essential Health and Safety requirements of the EC "Machinery" Directives: 98/37 EC. 
In other words: our lifts have been subjected to rigorous controls carried out by notified bodies and that, before being placed on the market, we have drawn up the corresponding technical file (identifying and evaluating the possible risks inherent in the use of the machine and detailing the solutions adopted for their control). 
Our machines are delivered with the EC declaration of conformity, which states the name and address of the person - within the EU - to whom the authorities of any EU Member State may request the technical file. 
In addition, the instructions for use contain all the phases of use of the machine. That is: normal operation, maintenance, adjustment - calibration, cleaning, scrapping and recycling if necessary. 
Which harmonised European standards do our lifts for the disabled conform to? 
In addition to the above, our ACCESS range of lifts conforms to the following harmonised European standards. 
These standards are drawn up by a European standardisation body following a request (called a "mandate") from the European Commission. 
It should be noted that 20% of European standards are developed through this procedure). 
In concrete terms, these are the harmonised standards to which ACCES lifts conform: 
UNE EN ISO 12100-1: Safety standard for machinery, specifically referring to basic concepts, general principles for its design, basic terminology and methodology. 
UNE EN ISO 12100-2: This European standard defines the technical principles that help designers to achieve safety in machine design. ISO 12100-2 is intended to be used in conjunction with ISO 12100-1 to find solutions to any specific problem. 
UNE EN 982: Machine safety standard that establishes safety requirements for systems and components for hydraulic and pneumatic transmissions. 
UNE EN 418: Safety standard for machinery that sets out the functional aspects for emergency stop equipment and the basic principles for its design. 
UNE EN 1050: Machinery safety standard that details the basic principles for risk assessment. 
UNE EN ISO 10535: Safety standard for cranes for transferring people with disabilities. Specifically, it includes the requirements and test methods. 
In Blautec we are backed by more than 30 years of experience providing solutions to our customers. And, among them, we put at your disposal our range of hydraulic lifts for all types of swimming pools.
If you want to ask for budget or information of our ACCESS hydraulic lifts, you can contact us and we will inform you about all the models, their prices and we will answer all the doubts that you may have. 
Request more information and prices: