For a correct maintenance of stainless steel in swimming pools or aquatic areas, Access specialists recommend:
• During the assembly of pool lifts - or other components - they should be handled correctly. Avoid knocks and scratches that damage the passivation layer of the steel itself and create incisions that are susceptible to pitting corrosion.
• Once the stainless steel elements have been installed in the pool, they should be used exclusively for their intended purpose. It is always advised that pool water maintenance chemicals are added to the water as far away as possible from the stainless steel parts.
• Carry out visual inspections of the surface of the lifters, to detect the possible appearance of signs of oxidation by external agents that have not been considered.
• In enclosed spaces, a correct daily recirculation of air must be ensured to control the formation of condensation in the environment.
The Access pool lifts are made of AISI-316 stainless steel, which withstands the variations of different types of water, as long as the optimum conditions are met with regard to the concentration of chemical products for disinfection, especially residual chlorine (chloramines).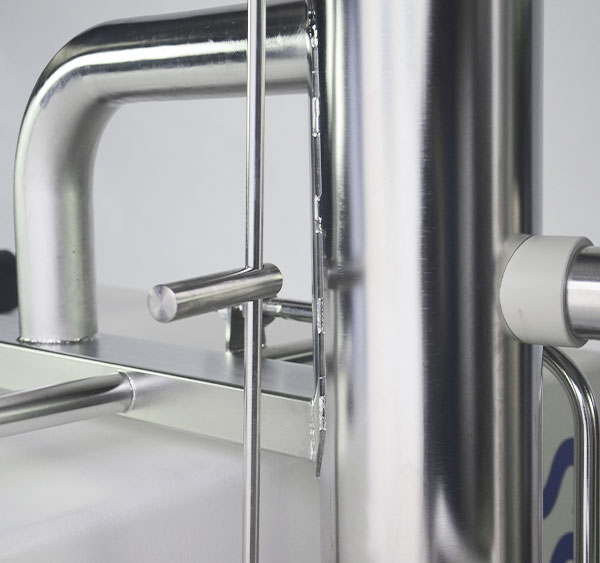 8 tips for cleaning stainless steel in swimming pools:
Stainless steels are corrosion-resistant materials that do not require any additional protection to improve their appearance and durability, but they do require some regular cleaning tasks so that neither their aesthetic appearance nor their resistance to corrosion is compromised.
Some of our expert team's tips for maintaining the surface of Access pool lifts include:
1. Recurrent cleaning to remove residues (limescale, chlorides, ...) and other harmful substances that may adhere to the stainless steel and cause pitting corrosion.
2. The frequency of cleaning will vary depending on the environmental and atmospheric conditions to which the product is subjected.
3. In covered swimming pools it is very important to make a more frequent cleaning given the severe environmental conditions due to a higher concentration of corrosive vapours of chemical products.
4. Cleaning shall be carried out with recommended products or with stripper pastes based on phosphoric or nitric acid, always using nylon brushes (never with iron spikes).
5. If rust deposits or stains are observed, clean with a 10-15% diluted nitric solution, or with a non-abrasive metal cleaner, rinse with fresh water and dry thoroughly with a cotton cloth.
6. After cleaning, always rinse with plenty of clean water.
7. Although fresh water with soap is sufficient to disinfect the steel, if it is cleaned with bleach, it is necessary to rinse with plenty of water afterwards.
8. To execute, at least, an annual technical stop for the preventive or corrective maintenance of the accessories and the installation in general.
If the stainless steel of the elevators is not cleaned periodically, remains of water with chemical residue can remain on the surface, which causes the corrosion of the material; as well as, in the access stairs, it is necessary to take special care with the areas of the drillings, since they can store remains of dirt between the steps and the handrails (in the anchorage screws) causing corrosion of the material.
It is also important to have a good water recirculation in the staircase area, because insufficient water recirculation causes dirt to adhere to the areas mentioned above.