Swimming pools and spas, in addition to sporting leisure, entertainment and relaxation activities, are also spaces for social interaction. In this sense, they constitute a significant part of the tourist attraction of many destinations.
There are two basic needs to be met in order for the majority of people to be able to make use of them:
1. guaranteeing access to the site and to the pool,
2. safe bathing conditions.
Depending on the type of pool, the environment in which it is located and the profile of its users, it is recommended that the user has alternatives available to guarantee entry/exit to the pool other than stairs, such as pool lifts or cranes, safe and approved systems for transferring the user into the water.
Hydraulic pool lifts, cranes or pool chairs are specially designed to allow safe access to the pool for people with disabilities. They are considered a key element to add value to tourist complexes such as hotels, resorts, campsites, spas or cruises, to offer a barrier-free service in their swimming pools in a safe way, providing their guests with total autonomy and comfort.
The commitment to inclusion and social responsibility by tourism companies must be understood as a competitive improvement, an investment in their facilities to embrace diversity in a market with consumers with different needs. It is not enough to respect the human rights of persons with disabilities and their families, but also to meet a large demand in the market, which could considerably increase the competitiveness and growth of tourism destinations and companies.
People with disabilities and special needs are increasingly demanding their place in tourism. In response, Access offers approved elements for accessibility in swimming pools such as pool lifts or cranes, an effective, safe solution with a very quick installation that adapts to any type of pool regardless of its size and depth.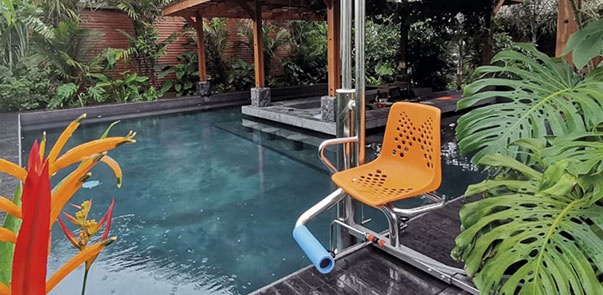 Accessible hotels with hydraulic pool lifts
Hotel Amor Arenal (Costa Rica)
Elevator mode: Access B1
Location: Fortuna (Costa Rica)
The hotel installed our portable model Access B1 in its pools. As the lift is portable, it can be shared with all the communal pools of the hotel. They have accessible pools for everyone who wants to enjoy a great holiday.