Blautec ACCESS hydraulic lifts are manufactured in AISI 316L stainless steel structure and polypropylene pool chair, both materials are fully suitable for outdoor use and with minimum corrosion levels. 
What are the properties of 316 stainless steel? 
316 stainless steel is an austenitic chromium-nickel steel containing between 2 and 3% molybdenum. The molybdenum content increases corrosion resistance, improves resistance to pitting in chloride ion solutions and increases resistance to high temperatures. 
Additionally, it is particularly effective in acidic environments and serves to protect against corrosion caused by sulphuric, hydrochloric, acetic, formic and tartaric acids, as well as acid sulphates and alkaline chlorides. 
Known as marine grade, grade 316 has many variants. The most common are given the letters L, F, N and H; each is slightly different and used for different purposes. Here, the designation "L" means that 316L steel has less carbon than 316.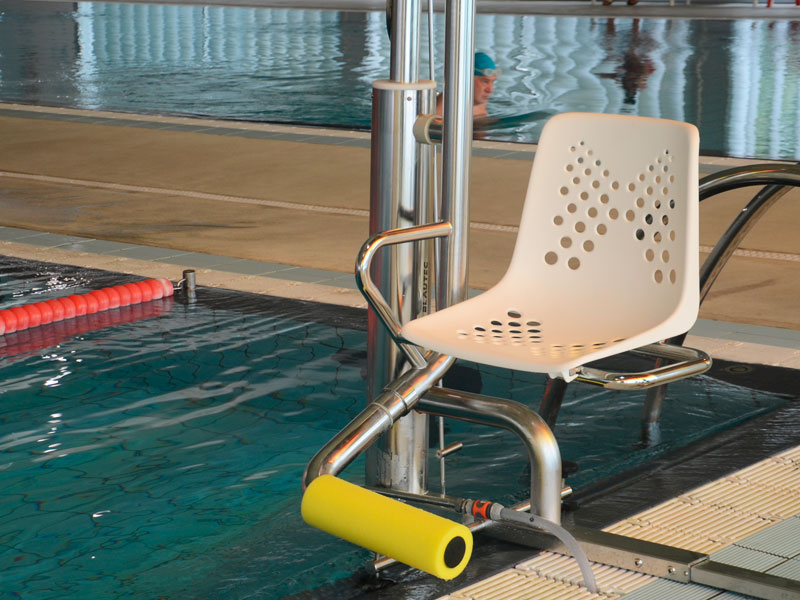 What are the physical properties of type 316L steel? 
Density: 0.799g / cm2. 
Electrical resistance: 74 microhm - cm (20o Celsius). 
Specific heat: 0.50 kilo Joules / kg - Kelvin (0 - 100o Celsius). 
Thermal conductivity: 16.2 watts / meter-Kelvin (100o Celsius). 
Modulus of elasticity (MPa): 193 x 10 3 in tension. 
Melting range: 2,500 - 2,550o Fahrenheit (1,371 - 1,399o Celsius). 
As for the percentages of the elements used to create these alloys, they are: 
What are the qualities of 316L stainless steel? 
316L stainless steel exhibits better corrosion resistance and is stronger at elevated temperatures. 
It is also hardenable by heat treatment and can be easily formed and drawn. Annealing (treatment that reduces hardness and increases ductility or the ability to accept plastic deformation) of 316L stainless steel requires a heat treatment of between 1038o - 1149o Celsius before quenching. 
Some of its other qualities are as follows: 
It is durable and a good choice for high stress situations. 
High corrosion resistance. 
Suitable for projects with a lot of welding. 
What properties does polypropylene have?
El polipropileno (PP) es el polímero termoplástico, parcialmente cristalino, que se obtiene de la polimerización del propileno (o propeno). Pertenece al grupo de las poliolefinas y es utilizado en una amplia variedad de aplicaciones que incluyen empaques para alimentos, tejidos, equipo de laboratorio, componentes automotrices y películas transparentes. Tiene gran resistencia contra diversos solventes químicos, así como contra álcalis y ácidos. 
Las propiedades del Polipropileno isotáctico, comercialmente conocido como Polipropileno, PP o hPP, es muy similar al polietileno, excepto por las siguientes especificaciones: 
Menor densidad: el PP tiene un peso específico entre 0,9 g/cm³ y 0,91 g/cm³, mientras que el peso específico del PEBD (polietileno de baja densidad) oscila entre 0,915 y 0,935, y el del PEAD (polietileno de alta densidad) entre 0,9 y 0,97 (en g/cm³) 
Temperatura de reblandecimiento más alta 
Gran resistencia al stress cracking 
Mayor tendencia a ser oxidado (problema normalmente resuelto mediante la adición de antioxidantes) 
El PP tiene un grado de cristalinidad intermedio entre el polietileno de alta y el de baja densidad.