Accessibility pool regulations in Spain
In Spain, in accordance with the Royal Legislative Decree 1/2003, of 29 November, which approves the Revised Text of the General Law on the Rights of Persons with Disabilities and their Social Inclusion, it is compulsory to carry out the necessary reforms, either by installing pool lifts, ramps or other mechanical or electronic devices in the facilities, so that they comply with the basic conditions of accessibility and non-discrimination.
In addition, we also find in article 10 of the Horizontal Property Law, the obligation to carry out these reforms so that any person can use the common elements.
In addition to making swimming pools accessible, these changes must also be made in gardens and other sports areas. This regulation only affects public facilities or residents' associations. We must remember that it is the responsibility of all owners to provide the possibility to facilitate access and avoid situations of discrimination due to disability in order to ensure that all members of the community enjoy the same benefits.
The costs of refurbishments will be the responsibility of the owners of the properties as long as the annual amount involved in the works, minus public subsidies and aid, does not exceed twelve ordinary monthly payments of common costs.
How to make a community pool accessible?
To facilitate access to the pool for anyone, the community must authorise the installation of a pool lift. One of the most recommended solutions is a hydraulic pool lift with an ergonomic chair to facilitate access to the pool.
There are also other options such as building work, changing stairs for ramps (provided that the dimensions of the pool allow it), but it must be said that the safest, quickest and easiest option is the installation of a lift for people with disabilities.
The regulations described above do not establish the type of equipment or solution to be applied, it is the community who chooses this decision depending on the needs of the facilities and owners. What is mandatory is that the accessibility elements must be approved to comply with the safety, approval and autonomy characteristics.
ACCESS offers accessibility solutions for public and private swimming pools, we help to solve accessibility problems with our approved pool lifts, so that all swimming pools comply with current accessibility regulations and so that everyone can enjoy the benefits of swimming regardless of their condition.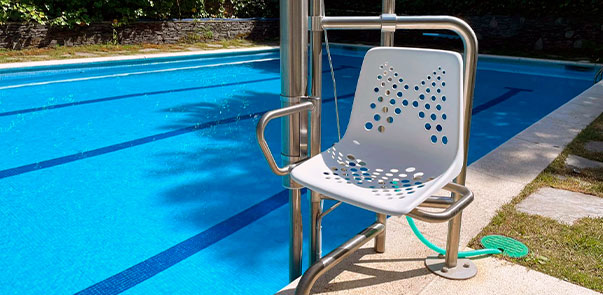 Swimming pool of an accessible community of neighbours:
Lift model: ACCESS B4
Location: Barcelona (Barcelona)
A community of neighbours located in Barcelona has installed an ACCESS B4 lift in their communal swimming pool to facilitate access to the water, especially for one of their neighbours with reduced mobility.
Sandra can now freely enjoy the community pool. Moreover, she will be able to do so without the need for assistance thanks to the autonomy offered by the lift with its dual operation from inside and outside the pool.